ENOZO > Aqueous Ozone Sanitizing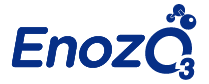 Sanitize • Deodorize • Clean



Aqueous ozone produced by Enozo kills 99.9% of Human Coronavirus 229E (surrogate virus for COVID-19) and some of the most harmful bacteria in just 30 seconds when used as directed. It has been approved as Generally Recognized as Safe (GRAS) by the FDA so you can sanitize confidently.






Deodorize & Clean

Enozo's on-demand aqueous ozone attack unwanted odors without the need for added fragrances or dyes and eliminates the need for other synthetic chemicals which leaves no residue. This is especially helpful to those with allergies and sensitive skin.






POWERFUL SANITIZING WITH ENOZO





Simple, Easy & Safe to Use

Cleaning should be simple, easy and safe, instead of complicated. Enozo aqueous ozone do-away complex cleaning processes providing users with an on-demand, on-the-go and almost never ending cleaning solution.




Sustainability & Cost-Saving

Enozo is rechargeable and refillable with just normal tap water, on-site and on-demand of aqueous ozone, the most powerful sanitizer helps to reduce your waste production and save money in the long run.




Ever-Ready Supply of Natural Sanitizer

Eliminate the need for unlimited chemical/toxic based sanitizers. Using just Enozo aqueous ozone, you can kill 99.9% of Human Coronavirus 229E (surrogate virus for COVID-19) and the most harmful bacteria like E. coli and Salmonella in just 30 seconds.



No Chemical Additive & Non-Poisonous

Aqueous ozone produced by Enozo is a non-synthetic, non-chemical, non-toxic cleaners

help to reduce/prevent workplace illnesses and home hazards like irritated skin and unforeseen allergic reactions.

Clean safely and with confidence... with no added chemicals.



ENOZO Ever-Ready & Never-Ending Supply of Natural Sanitizer
ENOZO Aqueous Ozone